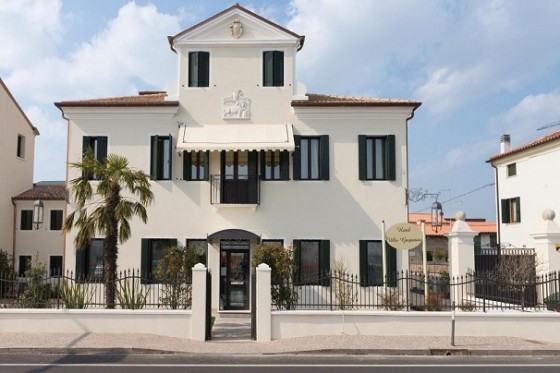 A Venetian villa turned into the most original hotel of the Brenta Riviera
ALTERNATIVE VENICE CITY BREAK AT VILLA GASPARINI
Take a break from stress and routine and come to discover one of the most popular gay-friendly destinations: Venice (and its environments)! Welcome to the most original hotel of the Brenta Riviera. Just a few minutes away from Venice and not far from Padua where there is a wonderful gay nightlife and Padova Pride Village during the summer period. The fully renovated historic building has 15 exquisitely finished rooms, furnished following 6 different themes, from classic Venetian to ethno-chic style, with style choices that represent the masculine / feminine duality and the juxtaposition of opposites. A Venetian villa with so many different worlds.
It' s a different kind of Venice city break, but it is the most relaxing atmosphere you can get just few minutes from the beloved Venice

Our 4 "Packages" offers: choose the one that is best for you Pamper yourselves with tension-relieving, perfumed and moisturising, soothing massages, romantic dinners in your room, classic or Dual Jacuzzi with chromotherapy and much, much more.
PACKAGE "A Jacuzzi for two, dragonfly-style with massage"
Price per person in double room: euro 240

Includes:
3 nights in Deluxe double room
Jacuzzi "Dual"
Private massage (also for couples)
Bio Relaxing set (Includes: Bio Relaxing Box + bath wrap for two and white slippers)
In-room breakfast
Candlelit Jacuzzi
Private Jacuzzi therapy
More about our Bio Relaxing Box
Our Bio Relaxing Box is an Ecru rectangular natural cotton clutch with:
-energizing washcloth with lotus flower fragrance from Laos
-jar of vanilla beans lip balm
-cotton buds and cotton balls in a recycled cardboard case
-wrapped jungle essence vegetable soap
-sachet of velvet hand cream with macadamia oil
-cypress lotion for relaxing aromatherapy massage
-vitalizing ginseng cream
-restructuring shampoo with eruca sativa
-cypress lotion for relaxing aromatherapy massage
PACKAGE "Private in-room dinner and Jacuzzi therapy"
Price per person in double room from: euro 295

Includes:
3 nights in Junior suite
Private in-room dinner with choice of menu: meat, fish, vegetarian or Sushi.
In-room breakfast
Candlelit Jacuzzi
Private Jacuzzi therapy
PACKAGE "Gondola tour and Candlelit dinner in Venice"
Price per person in double room: euro 300
Includes:
3 nights in Deluxe double room
Candlelit dinner in Venice
Gondola Tour
In-room breakfast
Candlelit Jacuzzi
Private Jacuzzi therapy
PACKAGE " At Alessandra's home: Cooking class and home-cooked meal"
A weekend on the Brenta Riviera, tips on Italian or Venetian cuisine and social dinner.
Price per person in double room: euro 298

Includes:
Overnight in double classic room
Three-hour cooking class from 9:00am to 12:00pm – Lunch from 12:00pm to 2:00pm from Monday to Sunday
or
Three-hour cooking class from 3:30pm to 6:30pm – Dinner from 6:30pm to 9:30pm from Monday to Saturday
Lunch or dinner at Alessandra's home (drinks are included)