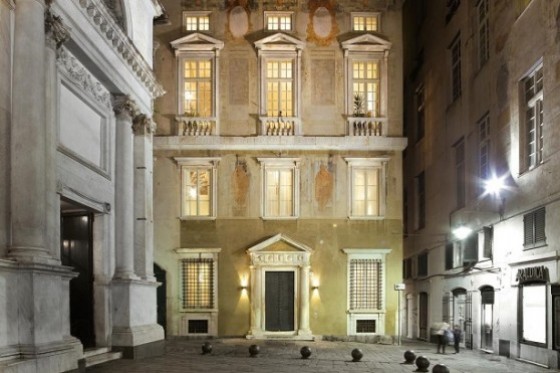 The only 4 star hotel in the Old Town of Genoa that occupies an entire Rolli Palace!
GENOA CITY BREAK
Such is Genoa (from the Latin Ianua), a portal between land and sea. A crossroads of cultures and people since ancient times, Genoa has always been a land that lives and breathes the sea air. Its history speaks grandly of this magnificent city, displaying its richness and beauty in every corner of the old town. The narrow and characteristic carruggi snake between the tall buildings along the medieval street plan, apparently inhomogeneous yet well-defined by the main streets that meander towards both the sea and inland. Beautiful buildings, gorgeous churches, façades decorated by stuccoes and frescoes, invaluable art collections - all bring the "Century of the Genovesi" to mind, the most important moment in the city's cultural development. A walk through the streets, squares and alleys of Genoa is a constant surprise. Behind every corner is a treasure waiting to be discovered.
GENOA CITY BREAK - "AQUARIUM EXPERIENCE"
Price per person in double room: euro 360

Package includes:
- 3 nights in double room at Palazzo Grillo Hotel****
- breakfast
- Genoa Aquarium entrance ticket
- HD LGBT Genoa excursion with licensed guided tour
- entrance to gay disco on Saturday (1 drink included)
The largest Aquarium in Europe
The Acquario di Genova is a fascinating journey through the largest exhibition of biodiversity and ecosystems in Europe. You will discover 12,000 specimens belonging to 600 animal species and 200 vegetal species, but above all live a unique experience above and below the sea surface, to touch with your hands and to repeat and remember forever.
GENOA CITY BREAK – "DOLCE VITA CITY BREAK"
Price per person in double room: euro 445
Package includes:
- 3 nights in double room at Palazzo Grillo Hotel****
- breakfast
- Visit of the city by a vintage car (Fiat 500) with private driver and private tourist guide (3 hours)
- entrance to gay disco on Saturday (1 drink included)
GENOA CITY BREAK – "STARRY PACKAGE"
Price per person in double room: euro 698
Package includes:
- 3 nights in double room at Palazzo Grillo Hotel****
- breakfast
- Evening visit of the city by a vintage car (Fiat 500) with private driver and private tourist guide (3 hours)
- Dinner at starry restaurant "The Cook" with "Memoria Menu"
GENOA CITY BREAK – "LA SUPERBA & PORTOFINO PACKAGE"
Price per person in double room: euro 1000
Package includes:
- 3 nights in double room at Palazzo Grillo Hotel****
- FD excursion to Portofino and Riviera Ligure by vintage car with private driver and private guide
Itinerary: pick up at your hotel, breakfast at Boccadasse (a small fishing village in Genoa) and transfer to Bogliasco and lunch at Clipper. Departure to Recco , Camogli, S. Margherita till Portofino. Dinner at "Villa Porticciolo" in Rapallo and back to Genoa

Our vintage cars:
- Fiat 500
- Fiat Jolly
- Fiat spiaggina
- Fiat 124 sport cabrio
Each proposed package can be personalized